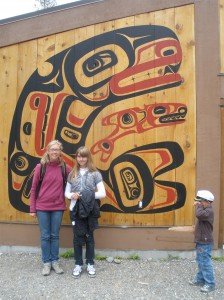 Split Mountain Adventures is excited to partner with the Kitselas Development Corporation to tour a northwest B.C. experience of the "living culture" of the Kitselas people.
Amongst longhouses depicting a "living culture, wildlife and transportation on the Skeena and poles carved by today's master carvers, Tour DirectorWebbBennett provides that real insight into the history, the culture of the Kitselas, and the role that the Kitselas people played as the "toll keepers" in this scenic canyon on the Skeena River.KitselasCanyonis where the Gitselasu people have inhabited over the past 5000 years, and where now, a nationally-recognized cultural site is in development.  Visit the KitselasCanyonwebsite at
http://www.kitselas.bc.ca
.Throughout 2010, master carvers Dempsey Bob and Stan Bevan and their apprentices are readying a 30 foot totem for thevillageofGitausand two House Poles to be erected later this summer in front of the four longhouses.In 2008, four poles were carved and raised overlooking the canyon.  These poles represent the four Kitselas clans and welcome visitors to this significant heritage site, and to the Kitselas people.  Carved by Stan Bevan and Ken McNeil, the poles illustrate the unique design taught by these master carvers at the NorthwestCommunity College's Freda Diesing School of Northwest Coast Art in Terrace
http://fredadiesing.nwcc.bc.ca/
.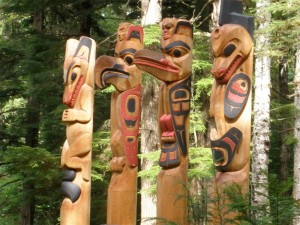 Split Mountain Adventures takes you from the riverboat and pioneer settlement of theSkeenaregion, back to a time where the herpes pictures Kitselas practiced their "living culture".  The positive connection between Kitselas and the settlers is the basis for today's enthusiasm for the development of this very important heritage center. SplitMountainis pleased to be the tour operator working with the Kitselas to provide this experience of First Nations culture, and the settler history in this region.