The Nisga'a Valley Tour
Overview: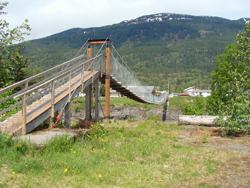 The Nisga'a Valley Tour is our premier First Nation tour. Go where few travelers venture and follow the Nisga'a Highway as your Split Mountain guide highlights the pioneer history, abundant wildlife, geology and cultural importance of the Nisga'a Memorial Lava Bed Park. Did you know that Tseax Cone has been the site of some of the youngest volcanic eruptions in Canada?  Learn all about the volcano and witness the unique attributes of the lavabeds.  Visit Nisga'a villages that will introduce you first-hand to Nisga'a culture and traditions. Learn about the importance of the Nisga'a treaty, the first modern-day treaty in BC and the Nisga'a people's vision for the future. test
Basic Tour: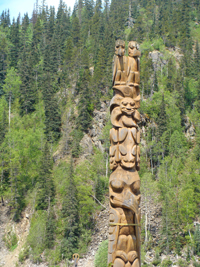 The Basic Nisga'a tour takes you to Gitlakdamix (New Aiyansh) and Gitwinksihlkw (Canyon City) in the Nass Valley. Tour the Nisga'a Lisims Government building, marvel at Nisga'a artisans, totem poles, the famous 400 foot suspension bridge and along the way you may encounter wildlife.
Duration:
8 hours
Rates:
$90 per person/ $250 per Trip
Extended Tour: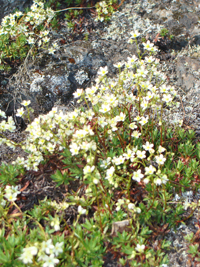 The Extended Nisga'a tour takes you beyond New Aiyansh and Canyon City to Laxgalts'ap (Greenville) and Gingolx (Kincolith). Laxgalts'ap is considered the birthplace of the Nisga'a Nation and is located at the mouth of the Nass River. Scenic Gingolx is located off shore of the Nass River amidst tidal waters.  The people are very hospitable and the experience is legendary.  From exquisite seafood dinners to the annual Crabfest festival to ancient villages and traditions, explore the shores of the Nass River and get to know the warm and friendly folks of Gingolx..
Duration:
10 hours
Rates:
$120 per person/$350 per Trip